Tame Effluent Water is an analyser that monitors and tracks the non-toxicity of wastewater or contaminated water (WWTP water, distribution network water). 
It is sensitive to the effects of toxic chemicals, including:
Heavy metals,
Pesticides,
Hydrocarbons,
Cocktail effects,
Endocrine disruptors, 
Drugs...
General Principle
Coupling between the respiratory analysis of 5 to 10 specific bacterial strains, a fluorescence sensor and a database.
Key Features
Tame Effluent Water is the "wastewater" version of Tame-Water products.
This analyser is specifically designed for local monitoring of wastewater at the inlet of urban or industrial wastewater treatment plants.
The measurement is carried out using 5 to 10 non-pathogenic bacteria, specifically selected from the bacterial population of each facility. The device thus allows for a personalised monitoring, providing an alert in the event of a toxic incident likely to alter the operation of the facility.
Applications
Analysis of wastewater in the natural environment,
Prevention of the impacts of potential chemical toxicants such as micropollutants, drugs or cocktail effects generated by the mixture of chemical toxicants,
Analysis of the toxicity of wastewater at the inlet and outlet of public and/or industrial wastewater treatment plants,
Analysis of waste water/contaminated water to protect treatment plant processes and in particular sensitive organic treatments.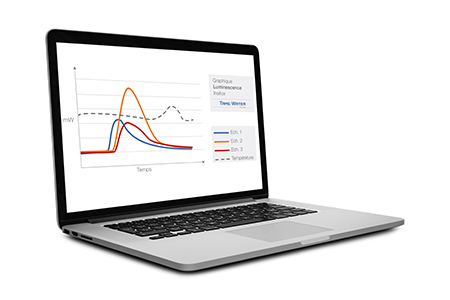 Simplicity of Use
Transportable and space-saving (11.41"×11.41"×18.11")
Simple power input: mains supply
Easy to use: no specific skills required
Easy handling: customised panel of lyophilised bacteria, delivered ready to use on a disposable rack and directly insertable into the device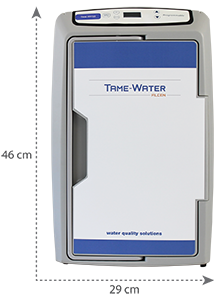 Measurements & Diagnostics
Automatic via software supplied
Customisable to each application or context
Fast < 6 hours
Economical because it eliminates the costs associated with the logistics of sending samples to a laboratory and reduces result-obtention time, allowing corrective water treatment measures to be taken if necessary.
    
Cost-effective
Eliminates costs associated with the logistics of sending samples to a laboratory
Reduces result-obtention time
Instructions for Use
After connecting the device to a power outlet, an operator introduces the water sample to be analysed into the expendable vials. For each sample, 1 vial for each of the three bacterial strains from the panel is required (3 in total).
The operator, guided by a colour code, inserts the vials into the device and launches the data-collection via the software.
The device performs the measurements according to a predefined program and reports the results.
At the end of the analysis the consumables can simply be discarded without any special precautions.