Tame Potable Water is an analyser that monitors and tracks the non-toxicity of potable water or lightly contaminated water (distribution network water, tap water).
It is sensitive to the effects of toxic chemicals, including:    
Heavy metals
Pesticides
Hydrocarbons
Cocktail effects
Endocrine disruptors
Drugs…
General Principle
Coupling of 3 bioluminescent bacterial strains, an optical sensor and a database.
Applications
Alert station for safeguarding water intakes: analysis of raw water to prevent accidental pollution, monitoring against malevolent acts,
Potable water quality monitoring: analysis of outlet water from production plants, reservoirs, water towers, distribution networks,
Optimisation of potable water production processes (tap water): water analysis during the various stages of treatment.
Key Features
The measurement is carried out using three bacteria (non-GMO and non-pathogenic) selected for their representativeness, their complementarity and their sensitivity to chemical pollution. The combination of their responses, analysed by a specific software, allows for the on-field delivery of information representative of possible variations in the chemical toxicity of water on living organisms.
Simplicity of Use
Simple to use, transportable and compact (11.41"×11.41"×18.11"), bioassays can be carried out without any particular laboratory skills.
The bacteria are lyophilised, identified and delivered ready to use in disposable vials.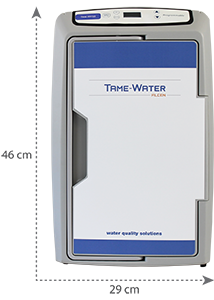 Measurements and diagnostics
Automatic via software supplied 
Fast < 6 hours
Reliable (measurements can be carried out in triplicate)
 
Cost-effective:
Eliminates costs associated with the logistics of sending samples to a laboratory,
Reduces result-obtention time,
Principle of operation.
Instructions for Use
After connecting the device to a power outlet, an operator introduces the water sample to be analysed into the expendable vials. For each sample, 1 vial for each of the three bacterial strains from the panel is required (3 in total).
The operator, guided by a colour code, inserts the vials into the device and launches the data-collection via the software.
The device performs the measurements according to a predefined program and reports the results.
At the end of the analysis the vials can simply be discarded without any special precautions.