Tame Potable Water is a field analyzer that monitors and tracks the non-toxicity of drinking water or water with a low concentration of contaminants (mains water, tap water). This bioassay toximeter makes it possible to:
monitor and follow up the general toxicity of the water,
provide a complementary analysis to traditional physico-chemical measurements,
measure the real impact of water quality on living organisms,
provide a rapid warning of any deterioration in water quality following the demonstration of a proven toxicity effect on living organisms.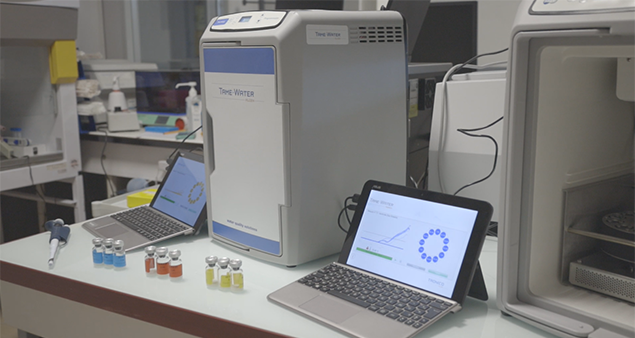 Technical specifications of Tame Potable Water
The Tame-Water analyser is a turnkey solution for analysing the toxicity of drinking water or water with a low concentration.
The solution consists of :
a toximeter (incubator, carousel and a measuring device),
a digital tablet provided,
a specific software to read the results,
3 luminescent bacteria selected for their representativeness, their complementarity and their sensitivity to chemical pollution.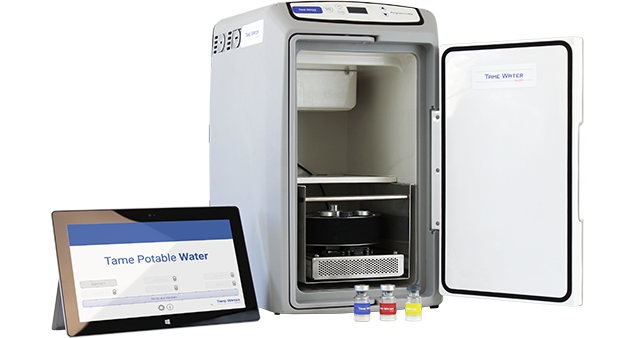 The bioassays used are sensitive to the effects of chemical toxins:
heavy metals,
pesticides,
hydrocarbons,
cocktail effects,
endocrine disruptors, 
drugs...
Technical features of Tame Potable Water
Reliable
Tame-Water analyses the toxicity of water by analysing the simultaneous responses of three bioluminescent bacteria. These are selected for their environmental representativeness, for the complementarity of their sensitivity to chemical toxicity, as well as for their reference figure within the scientific community.
The combination of the responses of these three bacteria, rather than their implementation in isolation, is now considered to be a very reliable approach for the effective analysis of chemical toxicity phenomena.
Fast
To meet the health challenges related to water quality, the speed of the test is a determining characteristic.
The drinking water analyser developed by Tame-Water is able to give a toxicity analysis in less than 6 hours. This significantly reduces the time needed to obtain results and allows for more regular monitoring and rapid action in the event of a proven toxicity.
Field or laboratory
Transportable and compact (29×29×46 cm), this measuring device allows rapid assessment and monitoring of the chemical toxicity of water directly in the field or in the laboratory.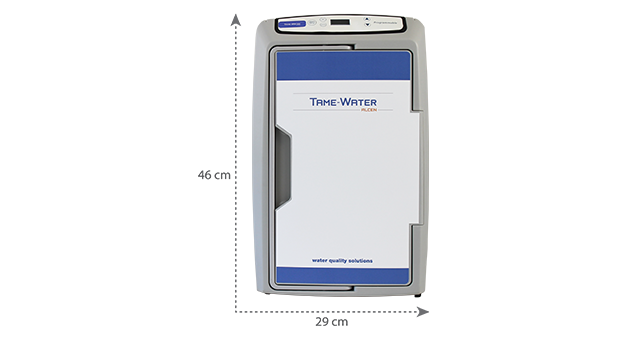 Easy to use
Simple to use, it allows bioassays to be carried out in a simple and automated way.
The bacteria are freeze-dried for easy transport and storage. They are delivered ready to use in disposable vials.
How Tame Potable Water works
After connecting the device, an operator adds the water sample he wants to analyze to the expendable vials. For each sample, 1 vial of each of the three bacterial strains in the panel is required (3 in total).
The operator, guided by a color code, inserts the vials into the device and launches the data-collection from the software.
The device performs the measurements according to a predefined program and returns the results.
At the end of the analysis, the consumables can simply be disposed of without any special precautions.
Applications of Tame Potable Water
Tame-Potable Water is an easy-to-use drinking water analyser for assessing water toxicity. It can be used both in the field and in the laboratory and is perfectly suited for the following applications 
Alert station for securing water intakes: analysis of raw water to prevent accidental pollution, anti-malware monitoring
Monitoring the quality of drinking water: analysis of water leaving the production plant, reservoir, water tower, distribution network
Optimisation of drinking water production processes (tap water): analysis of water during the various stages of treatment