In a global context where natural water resources are becoming more and more critical (climate change, increase in human and industrial activities, etc.), the solution of reusing previously treated wastewater proves to be a key strategy for reducing and optimizing water usage.
New public health and environmental issues are being raised, imposing new constraints on those involved in water sanitation activities.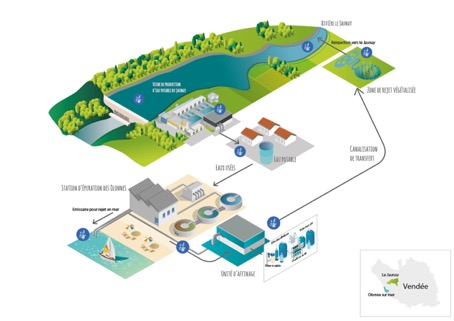 Water Reuse and its Challenges
This new usage exposes human populations exponentially.
In concrete terms, water reuse involves the irrigation of recreational areas (golf courses, public gardens) but also the irrigation of food crops for human consumption (not to be confused with muck spreading). See below for examples of the Luberon and Vendée Eau water reuse projects.
The most ambitious and innovative projects offer advanced treatment solutions for the replenishment of drinking water resources.
The more stringent requirements involved in water reuse call for new methods of water treatment which eliminate residual elements of microorganisms and contaminants and which are compatible with drinking water standards. Additional rigorous monitoring is necessary to ensure the safety of the reused water. This requirement is more or less strict according to end use.
Vendée Eau and Tame-Water, Water Reuse Project Tested in Vendée
Vendée Eau, Tame Water and Saur are working in collaboration on a pioneering water reuse project.  The pilot program "Water Reuse Vendée" allows the quality of (effluent) water to be monitored and possible impacts on the Jourdain lake to be measured. The aim is to recover the effluents from Les Sables d'Olonne wastewater treatment plant and to supply one of the main drinking water production plants.
It involves refilling a dam with treated wastewater. "It is estimated that around eight million additional cubic meters would have to be produced by 2025 to meet local demand," explains Sébastien Poiraud, Saur operations manager at La Roche-sur-Yon.
Tame-Water is a partner in the project and delivers its expertise in micro pollutant and cocktail effect detection. The mission of Tame-Water is to accurately assess water quality. To do so, Tame-Water uses its analysis tool Vigiwater Solutions.
Water Reuse, What is it?
The distinction should be made between water reuse and the already existing practices of recycling industrial water, the reusing of rainwater by professionals and private individuals, or even the reusing of greywater by private individuals as framed by ANSES  in its 2015 report
Water reuse refers specifically to water coming from wastewater treatment plants and its inclusion in new uses, well beyond what was historically possible in very special cases (specific local context) called "non-discharge into the natural environment".